Wheel Alignment Service at the Gillman Chevrolet Buick GMC Service Center
Our Chevrolet service center has one mission: to make sure that your vehicle runs smoothly and safely for years to come. We offer routine maintenance and repairs, and our team has the experience required to diagnose and fix any issue you're having. One of the services we perform most often at Gillman Chevrolet Buick GMC is the standard wheel alignment. Wheel alignments are necessary to maintain your car's handling and performance, so we think it's important to tell you more about it.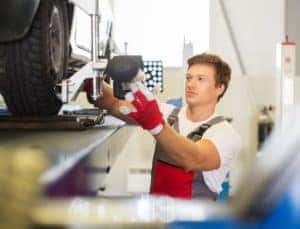 What is a Wheel Alignment?
 The standard wheel alignment is a simple procedure, and most Chevrolet cars will require it as part of their routine maintenance schedule. During a wheel alignment, our auto technicians will adjust the angle of all four wheels to conform to the manufacturer's exact specifications. As anyone familiar with Buick parts will tell you, wheel alignments also ensure that the tread on your tires doesn't wear unevenly or too quickly. It also helps your GMC SUV or car drive "true," or straight. This means that the vehicle won't pull in one direction. Our service center recommends getting a wheel alignment once every two or three years, depending on how much you drive.
How to Know When You Need a Wheel Alignment
Of course, there are circumstances where you might need a wheel alignment before you reach that three-year mark. That's why our GMC dealers near McAllen have provided a few common symptoms that you need an alignment. If you notice that your steering wheel is crooked or that your Buick vehicle is pulling to the left or right, this is a warning sign. You should also monitor any uneven tread wear or alert us to any unusual screeching sounds emanating from the tires.
If you notice any of these signs, make an appointment to get a wheel alignment at our GMC service center. Not only is our center one of the best in the area, but we also offer Chevy service offers to save you money. Come experience the difference at Gillman Chevrolet Buick GMC.