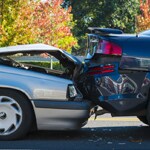 Whether you were involved in a motor vehicle accident because of something you did or something that was somebody else's fault, Gillman Chevrolet Buick GMC has some helpful tips that can ensure you're taking all the right steps.
Check to see if anyone in your vehicle has been injured. Call for an ambulance immediately if anyone needs help.
Move you and your passengers to a safer location that's away from your damaged vehicle.
Call law enforcement so they can come and file a police report regarding the accident.
Call your insurance company to inform them you were involved in an accident. They can file a claim for you.
Exchange information with the other party that was involved in the accident. You'll want to take down their name, address, phone number, license plate number and insurance provider. You may need to contact them later on.