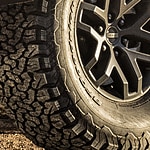 Choosing the right vehicle is important if you're planning to take up off-roading as a hobby. You'll need a model with adequate ground clearance, rugged tires, durable structural components and a safe, secure passenger cabin with a roll bar or cage. Upgraded features specific to off-roading, such as a winch, a towing package and enhanced communication capabilities, are also a plus.
Many local, state and national parks offer facilities geared to off-road enthusiasts. You can also find off-roading clubs in many areas. It's always smart to travel with an experienced off-road driver or larger group in order to learn your way around.
It's also a good idea to have your vehicle serviced before heading off the beaten path, so be sure to include a stop at Gillman Chevrolet Buick GMC as a part of your off-roading preparations.