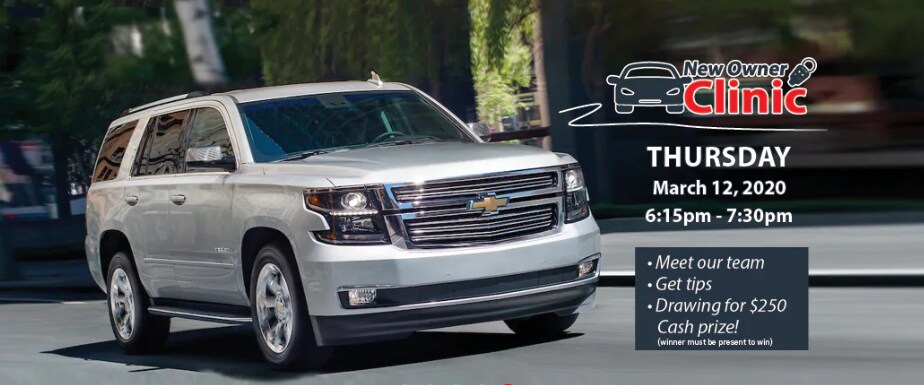 ?
Are you the new owner of a GMC, Buick, or Chevrolet vehicle? If so, you likely have some questions about the advanced technology, safety, and driver assistance features in your new car. In-cabin tech features have come a long way in the past few years, and our dealers are happy to share their knowledge of how they work. In order to help you learn more about your new Chevrolet vehicle, we are holding a New Owner's Clinic on March 12.
About Our New Owner Clinic
The New Owner's Clinic will be held right here at our GMC dealership near Brownsville, TX on March 12 at 6:30 PM. The event is family-friendly, and we will have free refreshments and available prizes for all attendees. During the event, our friendly team of dealers will be on hand to answer any questions you may have about your new vehicle, whether it has to do with its technology, safety, or performance features. We'll also be showing you tips and tricks that you may not have known about your new car.
Models In Our Showroom
If the New Owner's Clinic sounds like something you'd like to attend but you do not have a new vehicle, there is still time to purchase one. Our showroom is currently packed with the latest 2020 models of all your favorite GMC, Buick, and Chevy vehicles near Brownsville. Whether you're looking for a sturdy, work-ready pickup truck (Chevrolet Silverado 1500), a family-friendly SUV (GMC Acadia), or an everyday sedan (Buick Regal), you're sure to find something in our inventory. Our team of friendly dealers is happy to match you with the car of your dreams.
Mark your calendars for March 12, and stop by our dealership for the New Owner's Clinic.