When a Chevy vehicle has "HD" in its name, it means the heavy-duty truck is ready for every task at hand, including the hardest, most grueling jobs. A full-size pickup, the Chevrolet Silverado HD is certainly ready for anything that's on your agenda regardless of whether you plan to stay on or off the road. With a base price of $36,300, the 2022 Chevy Silverado HD is as enticing as it is work-ready.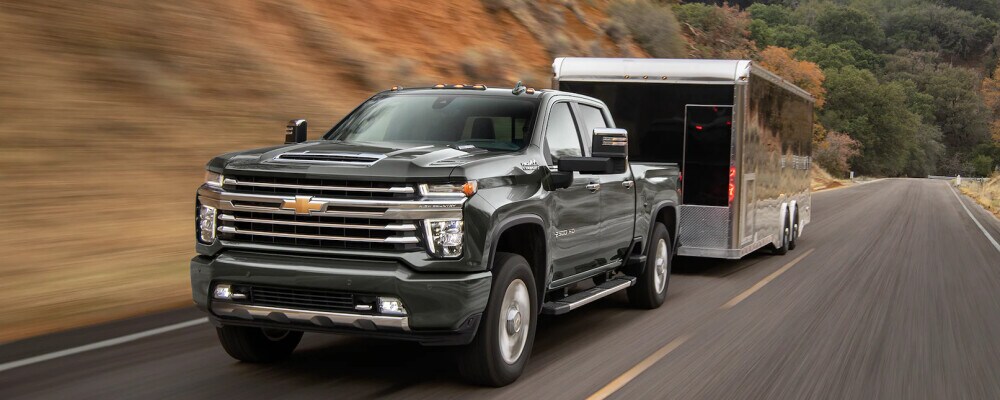 Available Engines 
Drivers looking for Chevy trucks will find their search will end once they get a glimpse of the Chevrolet Silverado HD at our location. The Chevy Silverado HD is offered in two flavors, Chevrolet Silverado 2500 HD and Chevy Silverado 3500 HD. Both trucks are available with two wildly impressive V8 engines. 
The truck's base engine is a 6.6-liter gas engine. This engine produces 401 hp and 464 lb-ft of torque. The base engine is mated with a six-speed automatic transmission and either rear- or four-wheel drive. The 6.6-liter Duramax® turbodiesel engine churns out 445 horsepower and 910 lb-ft of torque.
Tow and Payload Capacity 
Motorists who contact our San Benito, TX Chevrolet dealership often ask us how much the Chevy Silverado HD can tow and haul. The answer to that question depends on various factors, such as the model you choose to get and the engine that's under the pickup's hood. According to the Chevy brand, the truck's base engine has a max trailering weight of 17,370 lb, while the turbodiesel has a maximum trailering weight of 36,000 lb.
When the truck has the proper equipment, the Chevrolet Silverado 2500 HD has a max tow rating of 18,510 lb, a number that skyrockets to 36,000 lb for Chevy Silverado 3500 HD models. Chevrolet Silverado 3500 HD models with the regular cab and a dual-rear-wheel axle can haul up to 7,442 lb. 
Advanced Features 
If you're familiar with Chevy trucks, you won't be surprised to learn that the 2022 Chevrolet Silverado HD is outfitted with some sought-after features, and that it's eligible for even more. Here are some of the desirable amenities you'll notice when you view the truck at Gillman Chevrolet Buick GMC: 
Bluetooth® integration
Dual USB ports
Apple CarPlay® and Android Auto™
Seven-inch infotainment touchscreen
15-inch head-up display
Advanced trailering system
Hitch guidance system
Experience the Chevrolet Silverado HD Today
Do you want a truck that won't shy away from hard work? If so, apply for financing for a 2022 Chevrolet Silverado HD now!